") // preload images: if (document.images) { order = new Image(75,22); order.src = "order.gif"; order2 = new Image(75,22); order2.src = "order2.gif"; } function hiLite(imgName,imgObjName) { if (document.images) { document.images[imgName].src = eval(imgObjName + ".src"); }} -->

A m e r i c a n ~~ L i t e r a t u r e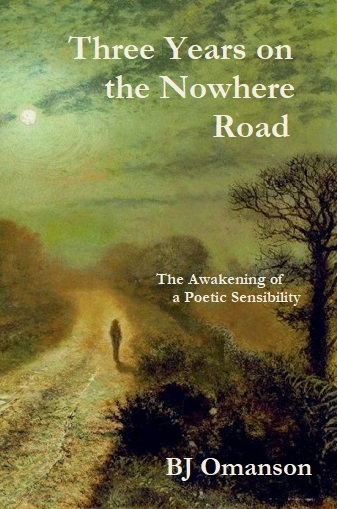 ~~ NOW AVAILABLE! ~~
Three Years on the Nowhere Road

The Awakening of a
Poetic Sensibility
Vol. I: Autumn '72 to Spring '73
by
BJ Omanson
BJ Omanson's road to becoming a poet began about
as far from the classroom as can be imagined.
He had dropped out of high school five years
earlier and had no intention of returning. He
was 22, living alone in a primitive shelter above
the Calawah River in the wilds of the Olympic
Peninsula and working in a little shake mill outside
of Forks, Washington. His journey began one winter
morning in a stand of old-growth Sitka spruce when
a fellow mill-worker and ex-Sgt of Marines named
Mitch handed him a sheaf of folded pages, worn
at the corners and tearing at the creases. They were
poems that Mitch had copied out by hand and carried
in his jacket pocket for months until finally
deciding to pass them along. They were Gary Snyder's
translations of the Cold Mountain Poems,
written by a half-mad old hermit named Hanshan who
lived in a cave overlooking the Yellow River in
8th-century China. For the rest of the winter,
ensconced in his shelter with a small fire for warmth,
seven miles from the nearest neighbor, Omanson read
and re-read the ancient poems, along with other books
of literature, ethnology and mysticism, and wrote his
first cycle of poems. ---- Volume I of Three Years
on the Nowhere Road chronicles that first winter
on the Calawah, his hazardous work in the mills and on
the steep, logged-over slopes, his encounters with a
Sasquatch and other backwoods eccentrics, and his first
steps on the arduous, solitary road to becoming a poet.
A m e r i c a n ~~ H i s t o r y
A m e r i c a n s ~~ i n ~~ t h e
F i r s t ~~ W o r l d ~~ W a r
| | |
| --- | --- |
| ~ AVAILABLE ~ | AVAILABLE |
| AVAILABLE | FORTHCOMING |
| AVAILABLE | AVAILABLE |